July 5, 2021
After finishing the Dig-a-Gem activity, my brother and I were craving for apple pies so we made our own. We had some apples and some bread in the fridge. I took care of cutting the edges of the bread and flattening them, and my brother took care of the filling. He mixed cubed apples, butter, brown sugar, honey and cinnamon.

After we finished, I put egg wash on the sides of the bread and put the filling in. I used a fork to seal the edges. We then spread egg wash on top of each one and started baking it.

It was really delicious and easy to make. I would want to make it again sometime.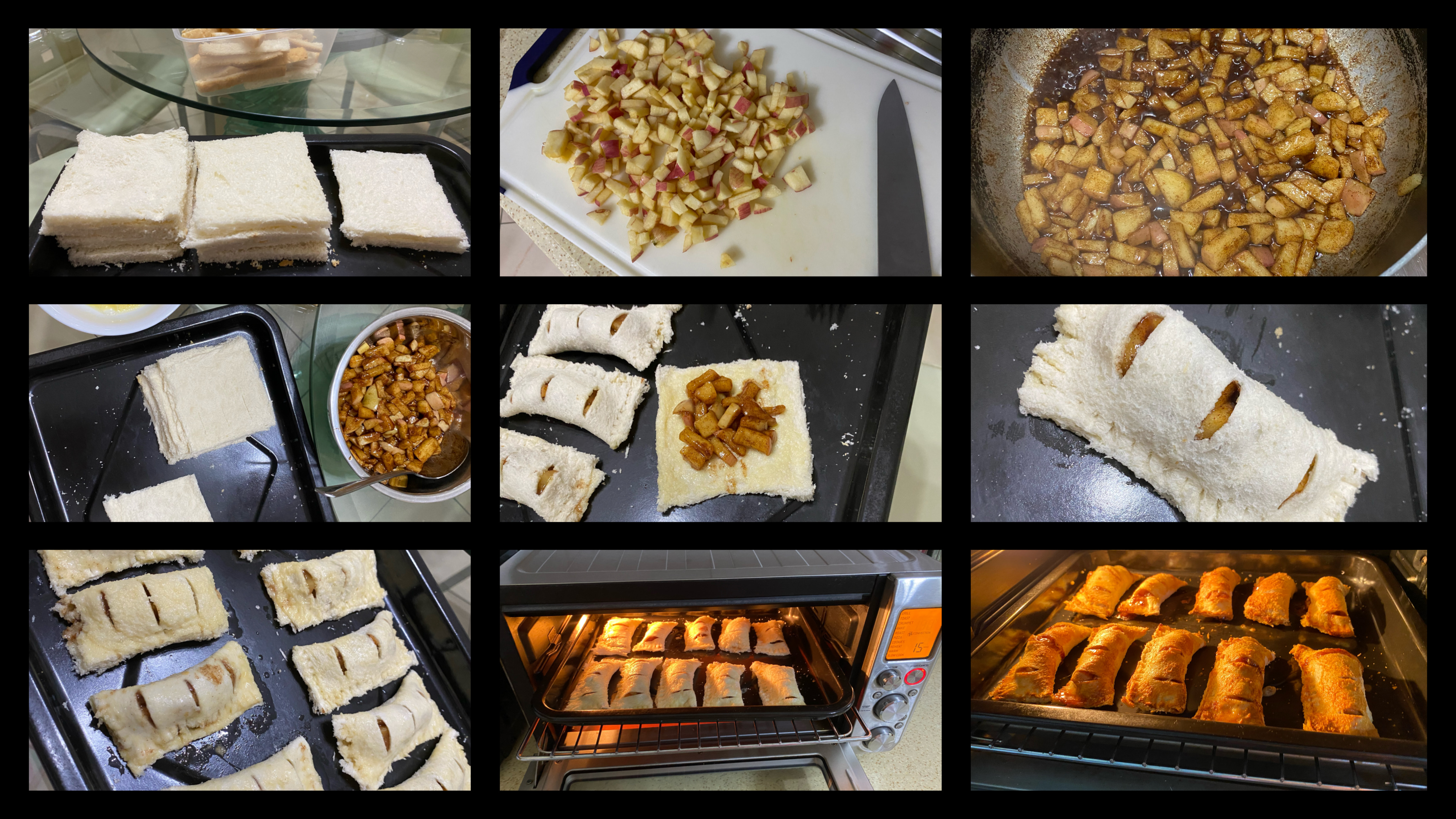 July 5, 2021
This afternoon, my brother and I decided to break open the remaining four blocks of the "Dig-a-Gem" set. We started by putting the blocks just about on the water surface and allowed them to moisten and soften for a few seconds. We then began scraping and 'digging' until we found the gemstones.

Today, my brother got the Orange Calcite and Amazonite, and I got the Dalmatian Jasper and Rhodonite.

Then with the excess block particles, we formed meatballs just for fun.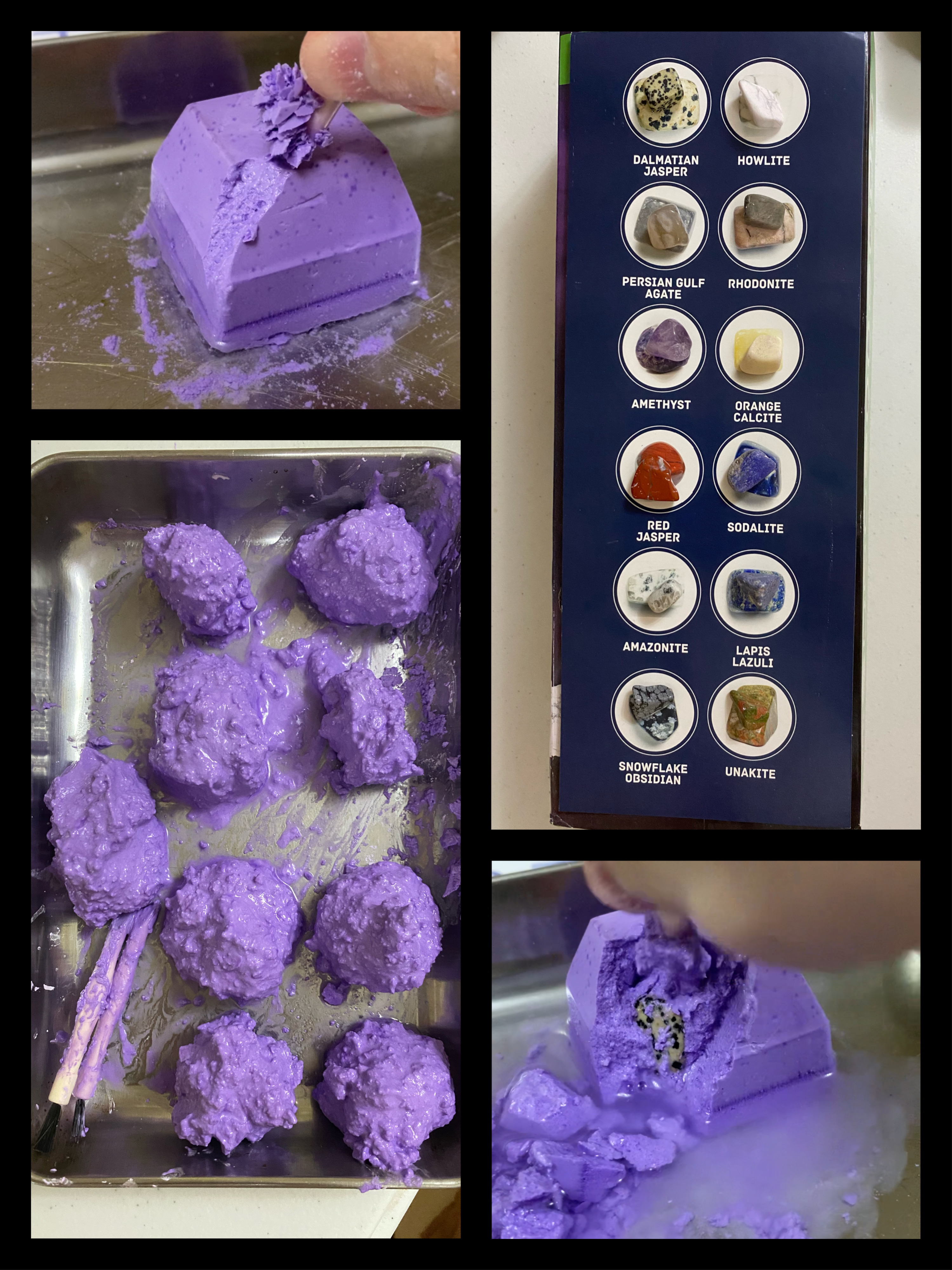 July 2, 2021
When I was a kid, I was gifted a Japanese Painting Tutorial Kit and never really touched it until a few days ago. I did some but ended up uninterested. So I decided to use the paint powder to make an abstract painting on canvas.

First I poured all the powder in swirls and then started spreading it out using wet paint brush. The process was very relaxing. I enjoyed it a lot and liked the end product.

I felt a certain way about my work. I felt positive transformation, hope, light, happiness and empowerment. The middle of the painting is bright and is stretching towards the darker areas. It reminded me of my fight against depression. But of course, it can be seen in the opposite way, the dimming of light, the consumption of happiness.



June 26, 2021
Today, I will be reverse tie dying my plain black hoodie. I started off by tying the hoodie with bands. I then poured some bleach on the hoodie and left it to do its thing for an hour. After bleaching, I poured some dye stopper powder so the bleach would not react with the dyes. I then put some soda ash so that the hoodie would absorb and retain the perfect color of the dyes. I finally put the blue and purple dyes and left it for a few hours. I decided to rinse it and it took a while for the excess colors to get off. It was very messy. I forgot to wear gloves, now my hands will be stained for days, but it is worth it because the hoodie turned out so well. It looks so dope.



June 25, 2021
The Strawberry Moon is shining upon the nightsky. I am eternally grateful for the moon for she lends us her energy fully tonight. I put out some water under the moonlight to drink in the morning and to use to cleanse some objects. I started playing a 417 Hz frequency music and also lit a candle. I express my gratefulness to the moon for allowing me to see with the eyes of love. "Blessed moon, our guiding light, Please shine down on us tonight. Charge this water with vitality and wealth And endow your blessing of love and health. This I accept so mote it be. Thank you, thank you Blessed be." I did not get much sleep so I took the moon water in before the sun rises. I drank some, put some in Chichi's bottle, washed my face with it and offered it to my tapestry for it to serve as a protection in my room.




June 20, 2021
I rearranged my beads last night and now it's time to actually make some necklaces, bracelets and other accessories.

I will be making a mask lanyard for my brother and dad, and after, I will begin making my own necklaces and bracelets.